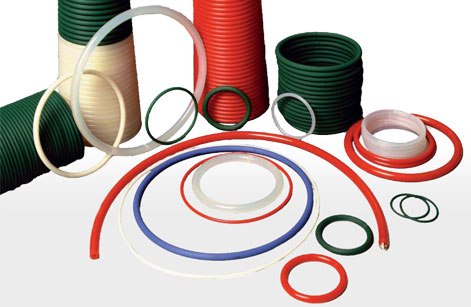 Download Prospect (PDF)                      Download Prospect (PDF)
PU round- and profile belts (PDF)            Food Line

Download Prospect (PDF)
PU profile belts and special profiles
As piece goods, PU-round belts are extruded, homogeneous round profiles that can be processed into high-grade drive and conveying elements through simple welding. Depending on the hardness of the material, the minimum pulley diameter is 8 – 12 x the belt diameter and the recommended initial tension is 8%.
Only high-quality raw materials from leading manufacturers are used so that we can guarantee the best possible properties for each application.
Thanks to continuous quality control and permanent further development,
we are able to master even the most difficult tasks. Whether you want to measure conveyed goods to the exact mµ using an LCD camera or weigh foodstuffs on more than 10 parallel belts down to the last gram, our models
are up to the challenge.
Applications of Pflug PU-round belts
As standard, our stocked range primarily includes solid profiles with smooth or roughened surfaces and hollow profiles for nipple connections. Various models are FDA- and USDA-approved and conform with Regulation (EU) No 10/2011. We not only manufacture piece goods, but also tailor all our models to meet your exact wishes.
For sufficient order quantities, we also manufacture special models with PES or ARAMID reinforcements. We manufacture the reinforcements in our mill in accordance with the application conditions and the customer's specifications. This ensures that our products are perfectly tailored to your requirements and the customer's specifications.
Special colours such as grey, black, brown or yellow can also be provided.
Further applications for Pflug PU-round belts
Thanks to the colour coding we use for our material hardness, it is easy for our customers to allocate the relevant properties to specific models.

Standard stocked range:
75°Sh.A red, smooth (several Ø also in rough or FDA, hollow profile)
80°Sh.A transparent, smooth, FDA
85°Sh.A green, smooth (also as hollow profile)
85°Sh.A blue, smooth, FDA
88°Sh.A green, rough (several Ø also in blue or white)
90°Sh.A white, smooth
45°Sh.D beige, smooth (FDA also possible)
| | |
| --- | --- |
| Available diameters: | 2 to 20 mm |
| Available lengths: | from 110 mm |
| Available hardnesses: | 75° Sh.A to 55° Sh.D |
| Temperature resistance: | -30°C to +70°C |
| Friction coefficients: | 0,2µ to 0,4µ * |
Data may vary depending on the model and material processed..
* As per Pflug test specification SPPN 91.001 with regard to V2A polished steel
Temperature-controllable 760 CD
welding apparatus
Bevelling shear 90°/45°
| | |
| --- | --- |
|   FZ 01 guide pliers |  FZ 02 guide pliers |