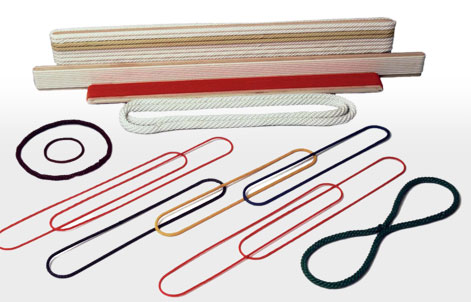 Download Prospect (PDF)
Our endless wound round belts are endlessly wound from a homogeneous strand or cord and endlessly spliced without a slub.
For special applications, you can take advantage of our own in-house technologies to vulcanise the inner splice or have it designed as a special splice.
This increases the tensile strength by up to 60%. Elastic models have a welded core.
Thanks to their special design, our round belts run very smoothly and quietly. Their high flexibility also enables very small minimum pulley diameters of three times the belt diameter and, on some models, speeds of up to 70,000 rpm. However, a maximum speed of 60 m/s should not be exceeded.
As we manufacture the cords ourselves in our own mill, we are always able to respond flexibly to customer requests, regardless of the diameter you require or whether you wish to use mono-filaments, multi-filaments, films or multi-component yarns. We even cut the square cords for our Vulkollan round belts ourselves from 40 kg blocks. We guarantee highest quality from the raw materials we use up to the final product.

Examples of solutions with endless wound round belts – naturally from Pflug
We have machindery on site that we predominantly developed and constructed ourselves and that is specifically tailored to our products. Thus, we are able to manufacture products from a diameter of 0.8 mm on computer-controlled machines – the only ones of their kind anywhere in the world – with maximum precision. We continually develop our products further and ensure we stay in close contact with our customers, allowing us to constantly adapt our products to ever-changing application conditions or develop brand new models.

All textile models can be impregnated with a wide range of coatings to protect the textile fibres from wear, to increase the friction coefficient or realise certain criteria in accordance with customer specifications.
We also use special thermal setting processes to ensure that models with limited extensibility extend as little as possible when in use.
Example applications for wound round belts from Pflug
We gladly adwise you on the right model from our range and can look back on decades of experience to assist you with new designs, with our experience of many decader.
Elastic models:
PU, Vulkollan
Semi-elastic models:
PA.6, set-polyester, nylon HE
Models with limited extensibility:
Polyester, Nomex, Nomex PTFE, polyester PTFE,
Kevlar/Twaron, PA.6 antistatic, PBO
We recommend the use of a tensioner for semi-elastic models;
this is always required for models with limited extensibility.
| | |
| --- | --- |
| Available diameters: | 0.8 – 15 mm |
| Available lengths: | 120 mm – 50,000 mm |
| Temperature resistance: | -50°C to +480°C |
| Coefficients of friction: | 0.05µ – 0.4µ * |
| Maximum tension: | < 500 N |
Data may vary depending on the model and material processed.
* As per Pflug test specification SPPN 91.001 with regard to V2A polished steel